CAR provides independent advice to policy-makers, design professions, building owners and the construction industry. CAR is a research-based consultancy at the forefront of new thinking in the design, construction and management of buildings and the built environment.
CAR's website has six sections for our different services. Please click on the service images below and explore!
CAR provides expert advice for practically all questions that arise in relation to buildings and the built environment – especially questions that fall outside the usual professional boundaries.
The skills within CAR are diverse. We have classified them into distinct service areas, but we realise that every project is different and many interesting projects cut across the classification.
For each new project CAR assembles a team with the right mix of skills and experience, chosen from the Directors, Associates and, where appropriate, specialised experts recruited for their contribution to the particular project.
CAR often works in collaboration with other organisations to meet client objectives.
If you would like to discuss a project with CAR, please get in touch with the contact given in the most relevant service area, or contact the Chair.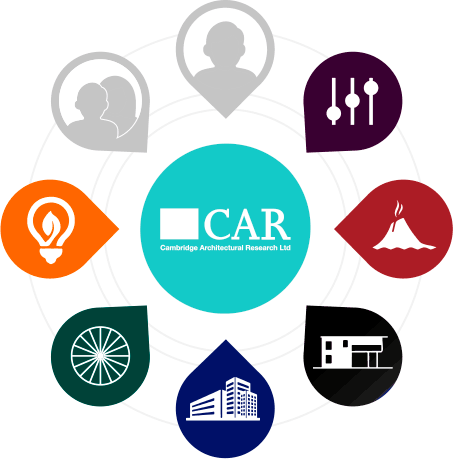 CAR's approach to all projects is collaborative. We work with our clients to understand their needs – often bringing additional insights, agree a plan of action, and deliver project results professionally and on time and budget.
The clients for our completed projects come from many different spheres:
international organisations and NGOs
central government
local government
universities
research institutions
charities
insurance companies
developers
building owners
building users.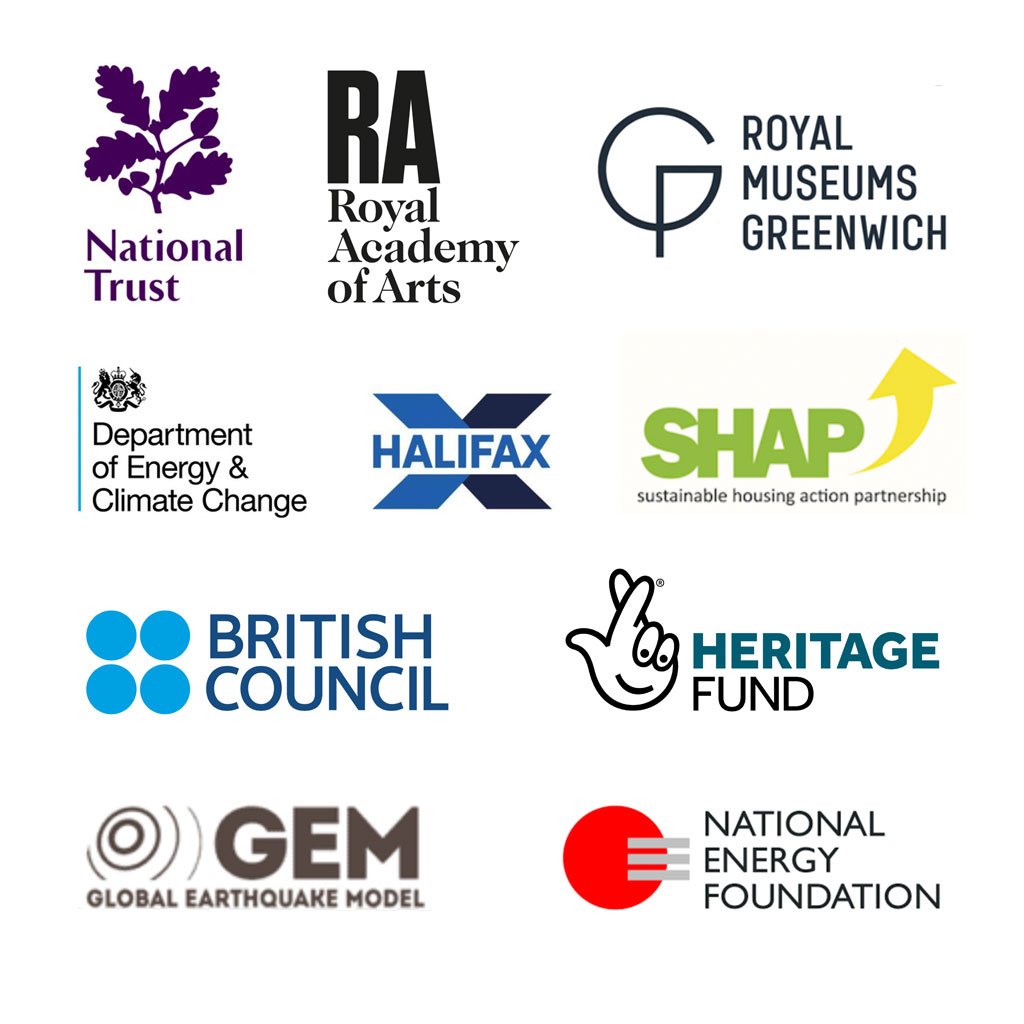 CAR – Cambridge Architectural Research Ltd – was established in 1987 by researchers from The Martin Centre for Architectural and Urban Studies, the research division of the University of Cambridge Department of Architecture. The founders were motivated by seeing that many research ideas fail to connect with real world problems where they are needed. CAR's mission was – and still is – to boost the contribution of research and analysis to the design, construction and management of buildings and the built environment.
CAR has a robust business model which was designed by its founder members. It is an independent consultancy set up as a limited company owned by its members. This model has stood the test of time.
Click on the link below to find out more about our Directors and Associates.
CAR operates as a flexible, collaborative, multi-disciplinary group of experts. CAR has now been involved in over 3,000 projects, in a wide variety of fields linked to the built environment. 
The membership of CAR has changed over the years but the nature of the organisation remains very much the same. CAR is always looking for new talent to join its team.
Please click on the link below to find out more about pathways to join CAR.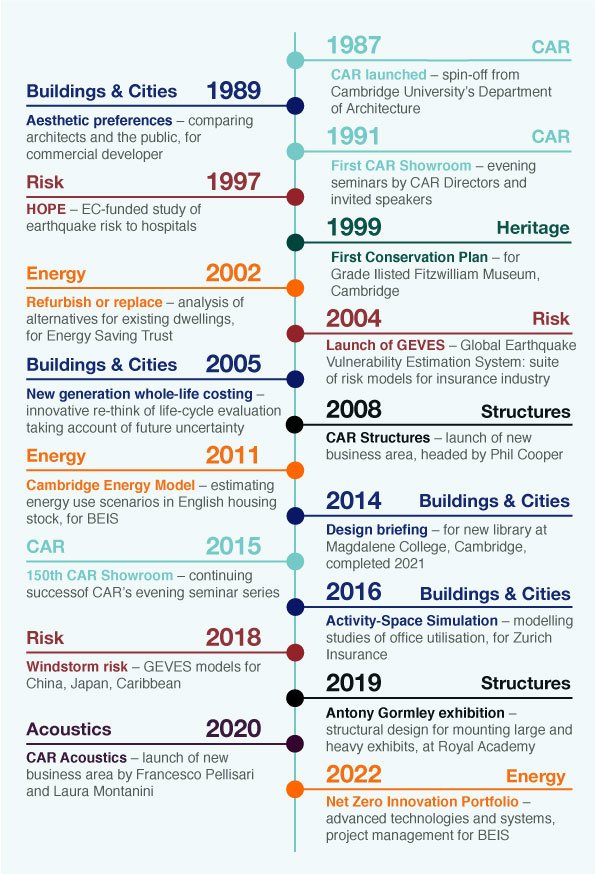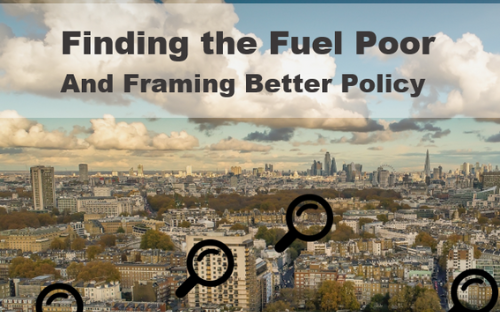 Millions of households are facing the next winter with no financial support from the government for their fuel bills. We need an urgent commitment from government to give these fuel poor households the money to keep warm when it starts getting cold in October. The
Read More »
CAR Showrooms are open to all and showcase our current research and the work of people in related fields.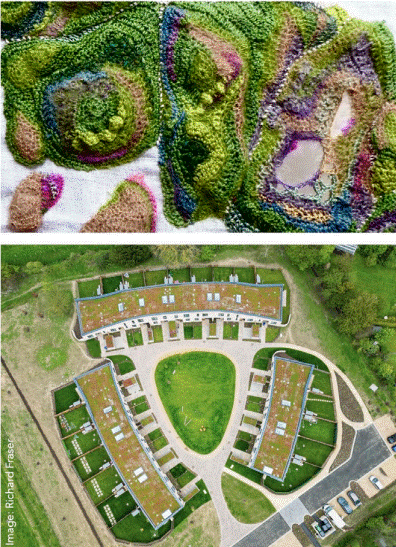 Emily and Rowan Haysom discuss the overlap between their independent creative practices and their shared vision for design. Emily's particular interest is in working with
Read More »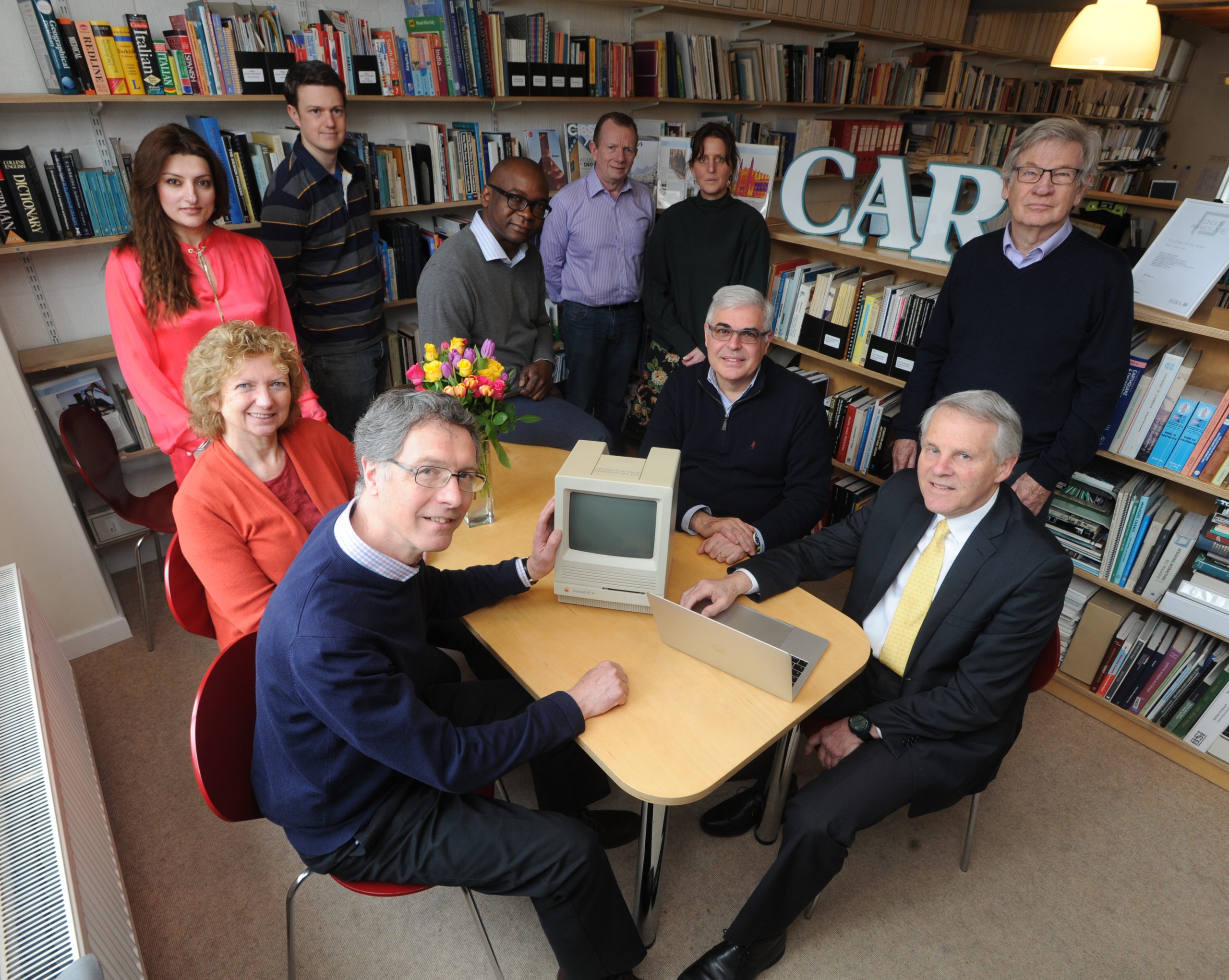 Cambridge Architectural Research Ltd
25 Gwydir Street #6, Cambridge, CB1 2LG
UK tel: 01223 460475 
International tel: +44 1223 460475  
email: [email protected]
Company registration number 02060803 England
CAR is shown in relation to Cambridge Railway Station, a 10-minute walk. There is parking at CAR, but please ask us for a permit on arrival to avoid being clamped. Some sat nav systems give misleading directions. The best postcode to use is CB1 2LL.