CAR Acoustics create opportunities for simpler, more economical, more exciting and more successful architectural-acoustic solutions.
When Francesco Pellisari is asked to improve the acoustics of an existing space, he takes measurements using the latest electronic computer-enhanced recorders. His natural ability and the use of a simple whistle and hand-clapping enable him to hear and understand the issues, and devise a unique, site-specific solution – often quite different from the standard approach, but Francesco says, "I know from experience what works well. My solutions are simple to use and maintain, and quite inexpensive".
His solutions are fine-tuned by 3D finite element modelling and scale model tests before installation. These methods are even more important in the acoustic design of new spaces.
When he works in collaboration with the architect Laura Montanini, Francesco's novel acoustic approach forms part of a complete architectural vision encompassing light, colour, materials and space – far more than a problem-solving acoustic 'add-on'. Francesco's deep acoustic insights create opportunities for simpler, more economical, more exciting and more successful architectural-acoustic solutions. 
To view more of Francesco's work please visit www.nacsound.com
"I measured the decibel reduction over the length of the gallery and it was incredibly small, less than 3 decibels, half the normal loss. This means that visitors sitting just a few centimetres beneath the speakers can hear practically the same strength and quality of sound as visitors 6 metres away. Being a modern contemporary design, the Omnis are handmade ceramic sculptures in their own right, blending in unobtrusively with the gallery surroundings."
Architectural projects are complex and rely on inputs from many sources – but to avoid a disappointing outcome, the inputs should be scrutinised in depth, not taken at face value.
The collaboration between Laura Montanini and Franceso Pellisari creates an architectural-scientific team to undertake in-depth scrutiny of the elements of an architectural project. Their rigorous approach and the instruments and test methods they have developed ensure the delivery of successful outcomes for their clients.
Their methodology includes:
Diagnostic testing of material samples before specification, to verify their performance in actual project conditions (many materials have certificates from tests carried out in the most favourable circumstances, which may not be applicable to the project conditions), and when delivered to site.
Rigorous investigation of the environmental credentials of 'bio' materials and components, covering both embodied and consumed energy and emissions, considered as a complete project system.
Use of internationally sourced specialist materials that outperform stock materials on the UK market, using an extensive and trusted supplier network.
A collaborative and high achieving relationship with all participants in the construction process.
A design approach that prioritises empathy and engagement with the client and user – an inclusive and sympathetic process in which the client fully identifies with the design solution.
A commitment to quality design, whatever the scale of project.
The ultimate aim of this methodology is to harmonise all elements of the design and construction process. Experience indicates that it does not increase the overall cost by more than 5%, but provides much greater value for money. 
"The atmosphere inside the dome is exactly as we wanted it to be. The sunlight shines through the central oculus with the shadow of a dove symbolising the Holy Spirit that hovers on the assembly. The design of the speakers also reflects the ecclesiastical nature of the building. The sound is now exquisite and we were pleased when the opera singer, Andrea Bocelli, who performed here recently, complimented the sound quality."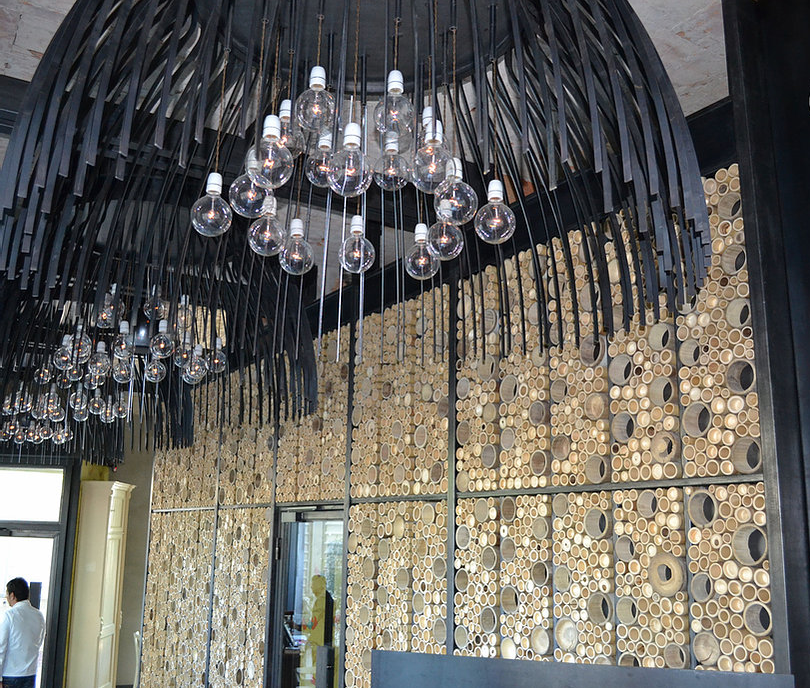 Light and resonator, Milan
Light and speaker with vibrational sound absorber give high diffusion. Bamboo offcuts forming the wall surface act as sound absorbers.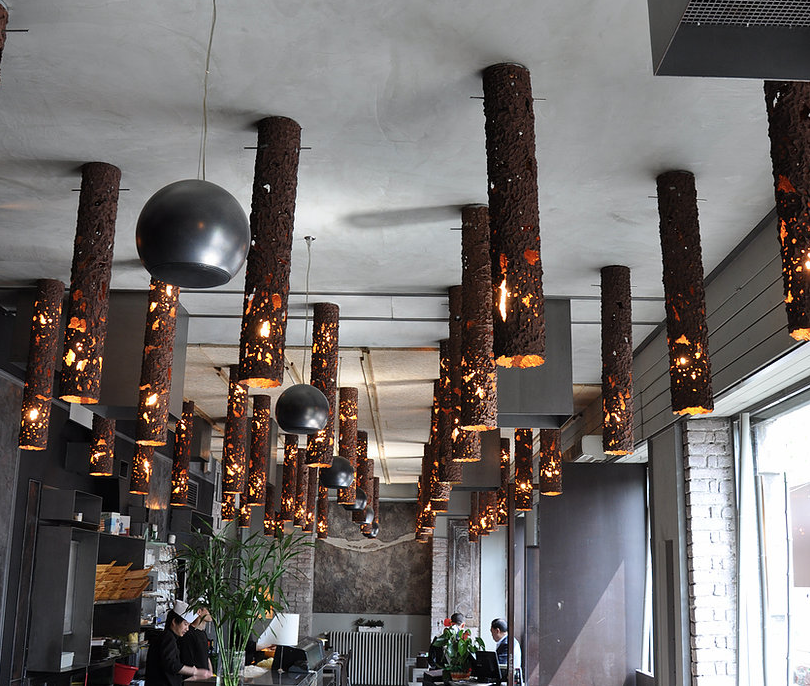 Oxidized iron cylinder, Milan
Light and sound in an oxidized iron cylinder. The cylinder absorbs the sound waves, and the difraction waves for the increase in sound. The ceiling is made of wood minerals to absorb the sound.
Omni-directional sound, Norway
Omni-directional terracotta speaker with 'graphite' glasses. The wooden ceiling enhances the sound quality.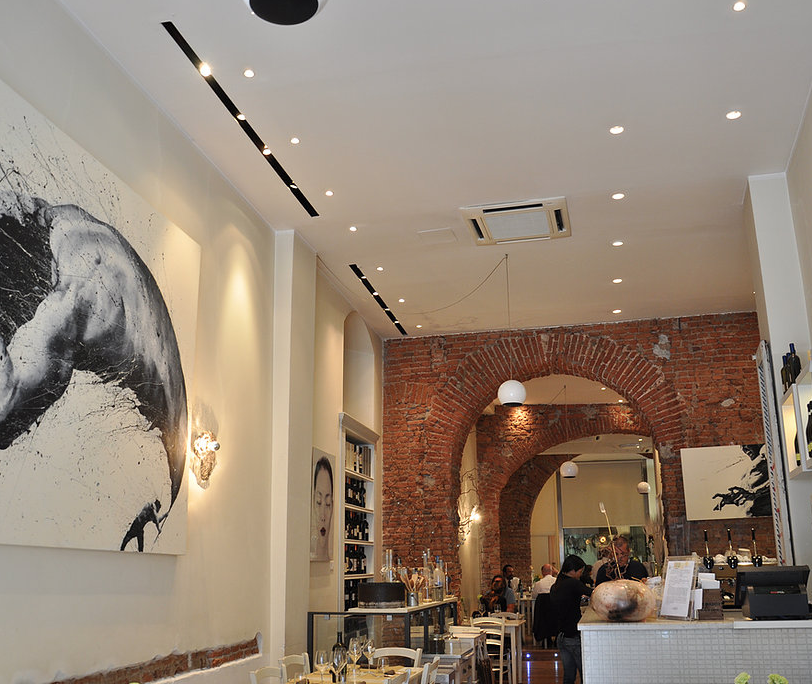 Painting sound solution, Milan
Restaurant with very hard surfaces and wrong proportions. High ceiling, with high reverberation and resonance. The painting creates a resonator and absorption sound wave to reduce the time delay and increase the quality of the sound and speech clarity.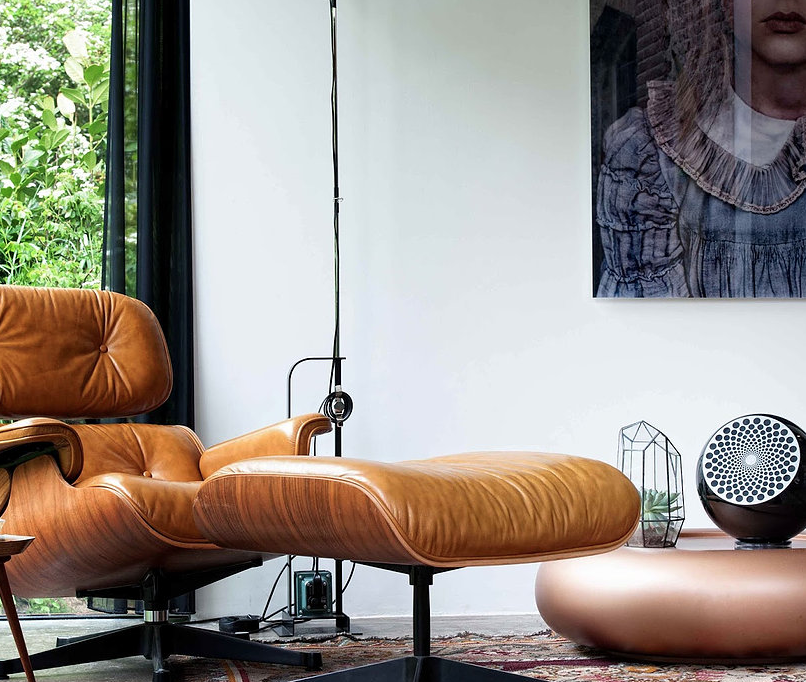 Wireless single stereo speaker with Airplay technology. ZEMI Aria was a project designed to resolve the poor sound quality in standard airplay speakers, 2013.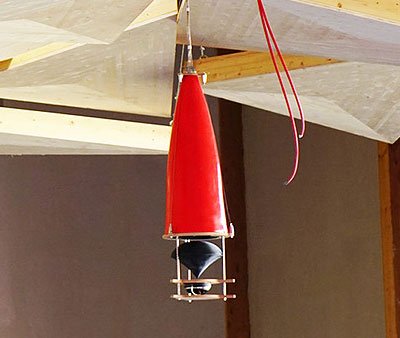 The ORUS is an omni-directional, non-coherence, sound wave speaker which was patented in 1996. This artistic sound sculpture was produced and installed by Francesco Pellisari and NacSound www.francescopellisari.com.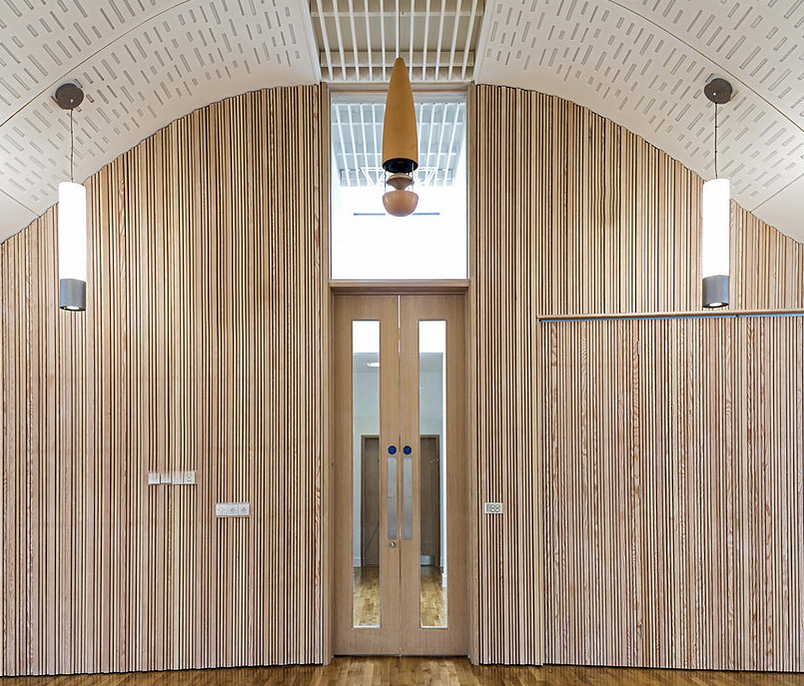 Synagogue Shalom, Cambridge, UK
Two powerful omni-directional speakers with a terracotta body, positioned along the main axis of the room were used to complete the improved sound configuration. Architects: Cowper Griffith.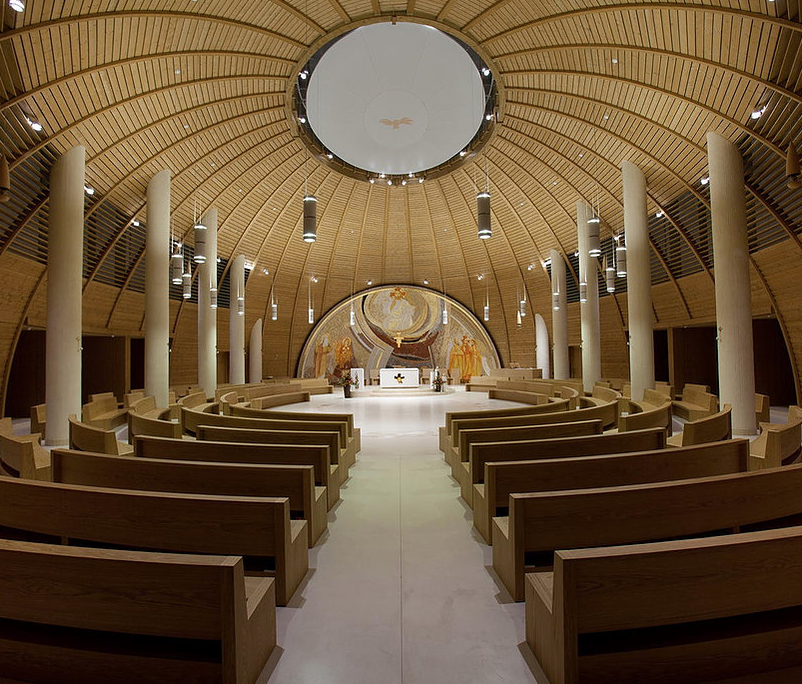 A custom-made translucent cloth stretched across the top of the dome, making it behave like a drum, was installed along with omni-directional speakers to improve the sound within the church. Architects: Paolo Marciani, Laura Montanini.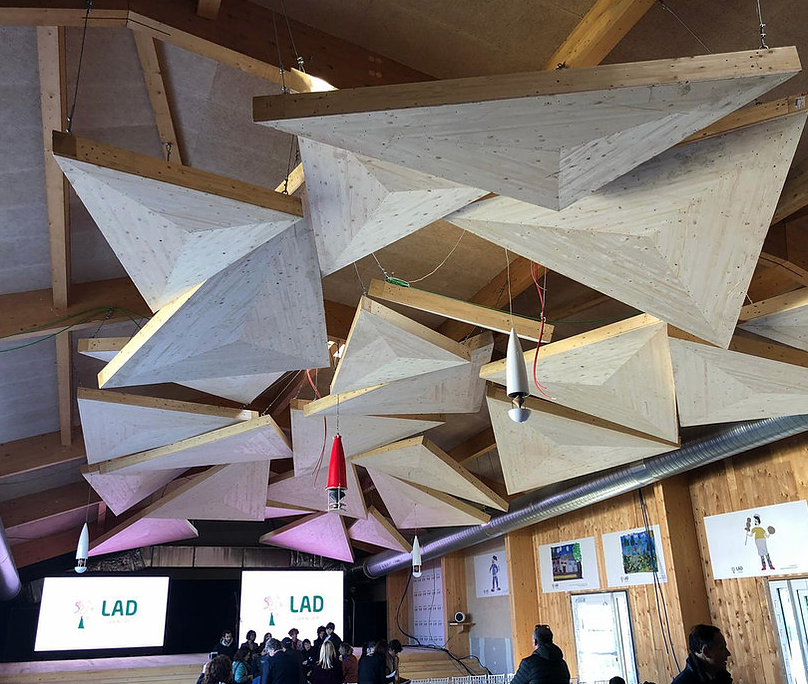 Large triangular wooden panels were installed on the ceiling and walls along omni-directional speakers to improve the acoustics within the hospitality centre. Architects: Frontini Terrana, Laura Montanini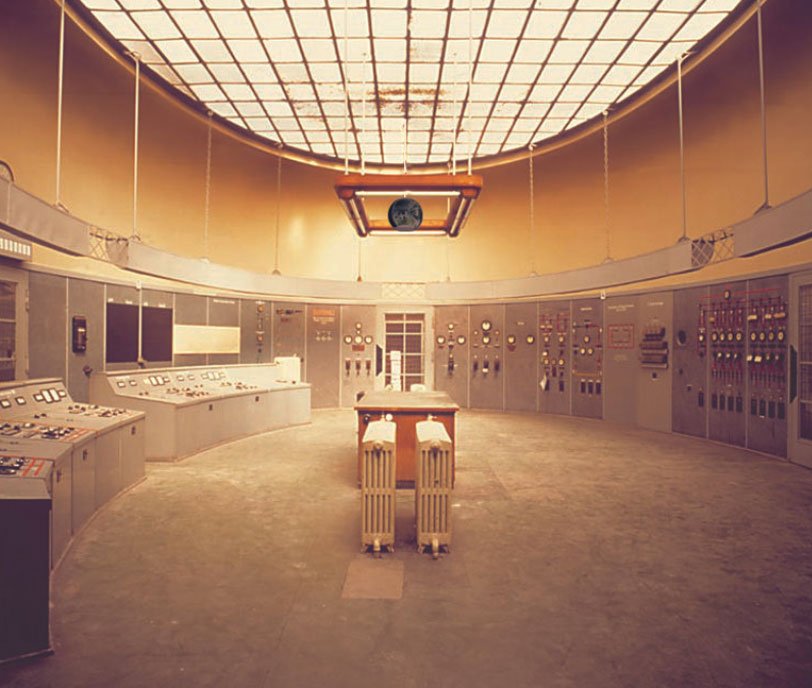 The oval geometric shape has very high resonance modes and the reflective walls had inadequate acoustics for a conference room. The use of a single hyperdirectional central speaker and sound-absorbing armchairs solved the problem. The stereo effect was created via two direct speakers filtered in low and medium frequencies.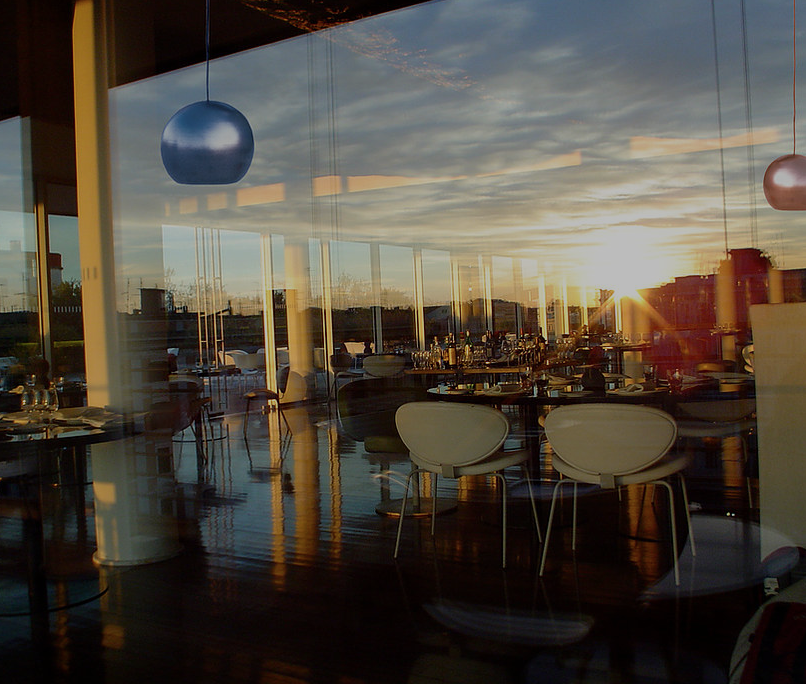 This hotel in the centre of Rome was a special project to increase the quality of the acoustics within the area. Because the walls were made from reflective materials, metal and glass, the project was difficult to solve. The solution was a stunning Freewheeler speaker, an aluminum omni-directional speaker and several ZEMI and OMNI. Architects: King Roselli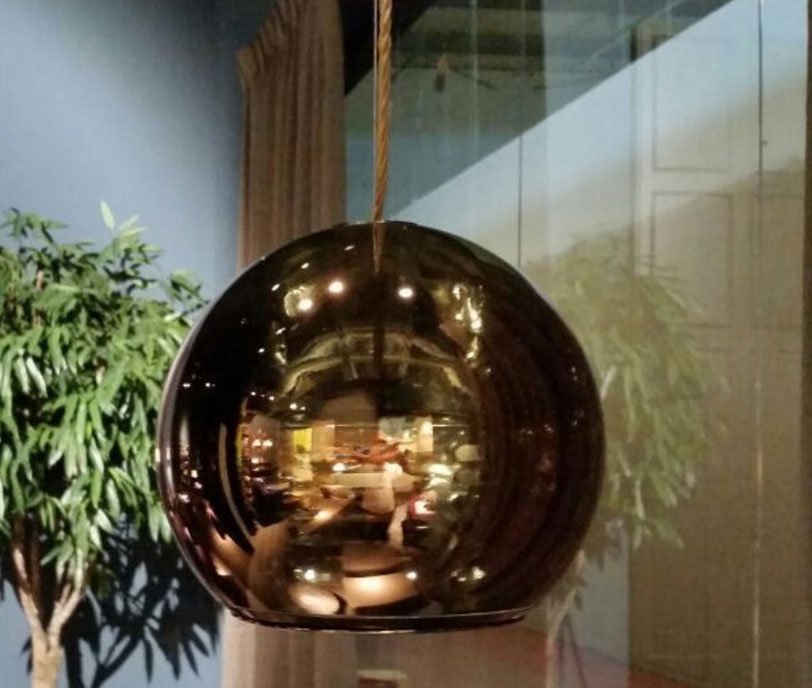 Art and sound technology come together to produce extraordinary omni-directional acoustics and sublime light.
CAR Acoustics has developed a holistic approach to design. This approach involves dialogue with different disciplines which includes materials, comfort (acoustics, air quality, heating), healthy environment and inclusivity. We work together and individually depending on the nature of the project.
Our cultural background, being Italian, brings a fresh vision to design which is appreciated in Cambridge. This opens us to a wider network of clients, who come from many different cultural backgrounds themselves, and we are sympathetic to their needs and cultural expectations. This combination of skills is unique in Cambridge.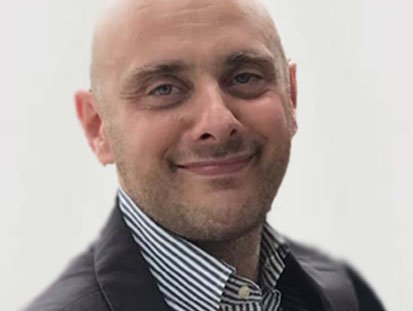 For twenty years Francesco Pellisari has conceived sound and form in a radically new, creative and innovative way. He has an almost tangible grasp of acoustics in buildings. This immersive approach is coupled with an experimental modus operandi that allows him to deliver solutions that are simultaneously technological and poetic. Moreover, his ability to think creatively, breaking away from traditional established patterns, has given him the capacity to come up with ingenious, unconventional solutions.
Francesco has applied his acoustic vision in the most diverse fields. His professional advice brings together different strands of sound, takes into consideration all key elements, and works across disciplines to provide a holistic solution.
His work is rich in references to historical and geographic experiences, and important personal encounters. Throughout his career, Francesco has worked with great designers such as Ron Arad and Ingo Maurer (combining light and sound). His mentor was acoustic researcher Roy Allison (1927-2016), one of the leading acousticians of the 20th century.
In 1996 Francesco founded NacSound, creating pioneering speakers and offering consulting services, often in collaboration with Laura Montanini, in architectural design as well as in product-based design. His work has been widely published in, for example, International Year Book, The Times, Wallpaper, Audio Review, Daily Telegraph, Church Building, Domus and Casabella. He holds twelve acoustic patents.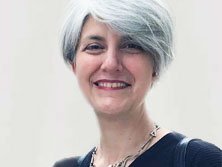 MSc(Arch) Rome, OAR, RIBA
Laura Montanini is a Chartered Architect with more than twenty years international professional experience. She has developed expertise in a wide range of disciplines, including architectural design, interior design, project management and acoustics. She has worked in collaboration with world-leading designers and architects, such as Ingo Maurer ( www.ingo-maurer.com/en/ ) and Ron Arad ( www.ronarad.co.uk ).
Laura has a background in music education and for over fifteen years has worked closely with acoustic specialist Francesco Pellisari, jointly developing design solutions that combine acoustic comfort, sound quality and architectural excellence – often in buildings with a history of severe acoustic problems.  She has solid experience in cross-disciplinary integration and teamwork in construction projects.
Laura joined CAR in 2018.
In 1997 Italian acoustic designer Francesco Pellisari established New Acoustic Concept NACSound, a company dedicated to audio consulting and the manufacture of designer speakers without compromising audio quality.
In 2019 the collaboration with the prestigious Cambridge Architectural Research begins creating a synergy in acoustic architecture.