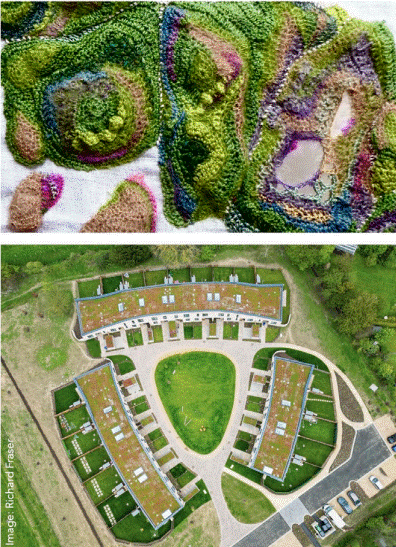 Emily and Rowan Haysom discuss the overlap between their independent creative practices and their shared vision for design.
Emily's particular interest is in working with the energy of natural systems to enliven human and natural habitats. She questions the dominance of the 'view' and 'plan' in design. Rowan will discuss his experience of community-led design and how such engagement has resulted in more integrated and coherent outcomes. Together they will reflect on their search for more grassroots models for development, based on inherent patterns of growth, open systems, and relationship-based planning, for the creation of resilient habitats and communities.
Rowan Haysom is a director of Haysom Ward Miller Architects, an award winning practice in Cambridge. He has over fifteen years experience in masterplanning and housing. He is committed to participatory practice, working closely with charities, community land trusts, and almshouse providers.
Emily Haysom is a landscape architect and artist, with a background in community development. She was previously the community development officer for North West Cambridge. She is involved in the landscape design and strategy for residential developments and public open space, with a strong commitment to ecological design.
Thursday, 30 November, 2023
Drinks reception from 5.30pm, Talk at 6pm. CAR Offices, 25 Gwydir Street CB1 2LG.
Please email [email protected] if you would like to join us.